The first book in the Tale of Tales series is available now in paperback and eBook. Signed copies only here at NikolaStefan.com/Shop. ➡ Book Two is coming in June and Book Three in October. Pre-order the entire series or buy the first book now, or start your journey with a valuable novella-size gift (30% content) from here.
Description
Tale of Tales is a high/epic fantasy saga based on the motifs of ancient myths, legends, and forgotten fairytales.
Senka is no hero, but you never know what is coming for you. And if that burns down your house and family, while you are left blinded by your house's guardian snake, the outlook becomes grim. So Senka clings to her dog's back to survive, unaware of the fateful prophecy and the great changes to come. But when a wandering warrior becomes her protector and mysterious strangers join their hounded party through a series of seemingly chance encounters, they all begin to discover that all is not as it seems.
What is pursuing her? And why? Can the strange characters gathering around her on her desperate quest save her from doom? Are they mere puppets of a young, beguiling witch guided by her own hidden motives, or are forgotten shadows rising again from the immeasurable depths of time?
A tale of folk fairytales and myths, of swords and sorcery and mythical beings – a unique story of dark times and unsung heroes who may light your way.
Excerpt from the scene depicted on the cover:
Above this hellish pack and the rider at the forefront, flurried a cloud of dark, endlessly bustling bodies and wings, a swarm of creatures that produced the great din which had first reached the ears…
Book One, A Strange Bunch, is the first part of Nikola Stefan's epic adventure Tale of Tales series. The book series features leading characters of various ages and, although written with adult and young adult audiences in mind, it is, in the tradition of the greatest fantasy epics, suitable for all ages.
Get A Strange Bunch NOW to journey on an amazing adventure today!
At the request of Vitor Publishing, the eBook is being sold without Digital Rights Management software (DRM) applied.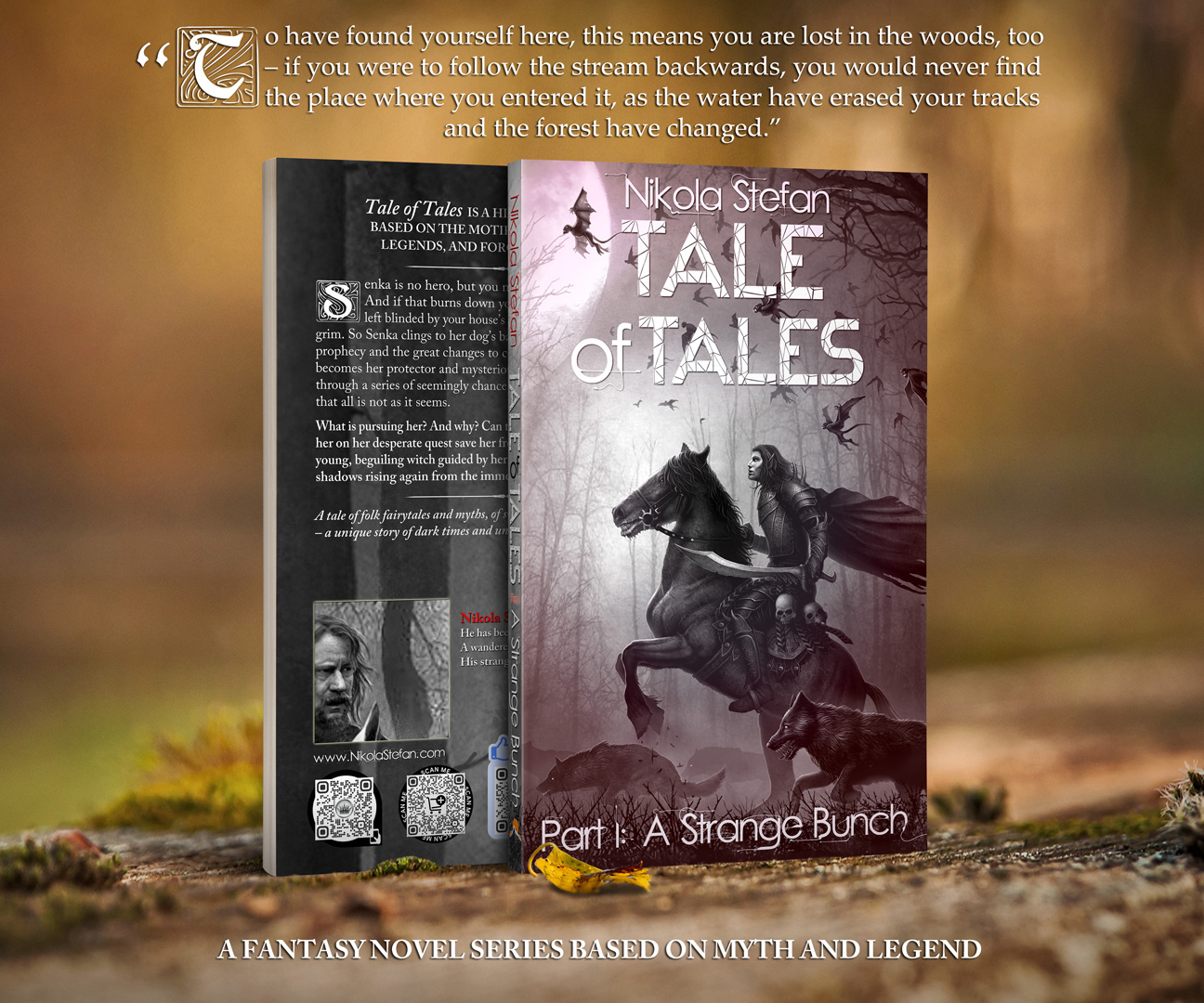 Quote: "To have found yourself here, this means you are lost in the woods, too – if you were to follow the stream backwards, you would never find the place where you entered it, as the water have erased your tracks and the forest have changed." ―Tale of Tales – Part I: A Strange Bunch by Nikola Stefan
Early reviews
"I really enjoyed this fast paced and entertaining book." ―Booksprout Review
"This was one of the most enjoyable fairytales I have read in a long time. I truly enjoyed it… I cannot wait for the next book in this adventure." ―NetGalley Review
"I enjoyed how Nikola Stefan incorporated folklore into the story and it made it very gripping, especially when mixed with the combat and the borderline horror elements thrown in. I now can't wait to pick up Part II…" ―BookSirens Review
"A really good book." ―Goodreads Early Review
"I really enjoyed this story! It is written in a folklore style, reminding me of the Grimm fairy tales, including the character sketches of old (at the start of every chapter and they are amazing!)… A refreshing break from today's fantasy, an old take on a new story." ―NetGalley Review
"As close to tales of old and a narrative poem as one could get, and in a great way. Highly recommend you expand your reading world by picking this one up." ―Booksprout Review
"TOTALLY gonna read the next two in this series ('The Witch-borne Quests' and 'Familiars and Foes') once they're released!" ―Amazon Early Review
Where to get it?
Many will choose the Amazon ⟹ series page , but we (as author and publisher) strongly prefer direct sales and contact, so the recommended option is ⟹ NikolaStefan.com/Shop
And here is a link with more information and more options: NikolaStefan.com/Sale
We hope you enjoy the book!
And if you are not ready to purchase yet, allow us to inform you on the next book release date and further developments by signing up for our news and gifts here ⟹ Subscribe . These emails are rare enough to likely not ever bother you and will always bring some value, such as announcing a promotional price or limited-time offers. And you can unsubscribe at any time with a single click. Give it a chance now and see for yourself. Cheers!